Gastrophobia 03: Best at Winning, Worst at Love
Phobia's life goal is to be the best at winning. The way she figures it, she only needs 10,000 hours of practice to become an expert, but she's a little preoccupied.
Her slave/boyfriend, Klepto, has been repossessed by the government, her 8-year-old son figured out the identity of his awful father, her time-cop daughter from the future keeps trying to interfere with her life, and a weirdly charming shape-shifting monster from deep within the Earth's crust either wants to be her best friend or kill her (or both).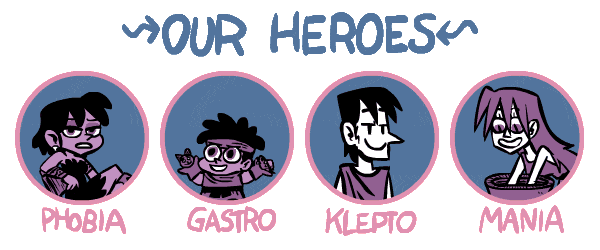 160-page DRM-free ebook presented in black & orange, just like ancient Greek pottery! Includes 8 stories, 11 pseudo-educational comics, and activity pages!
Purchase
In order to download this comic you must purchase it at or above the minimum price of $6 USD. You will get access to the following files:
Gastrophobia03-BestAtWinningWorstAtLove.pdf
90 MB